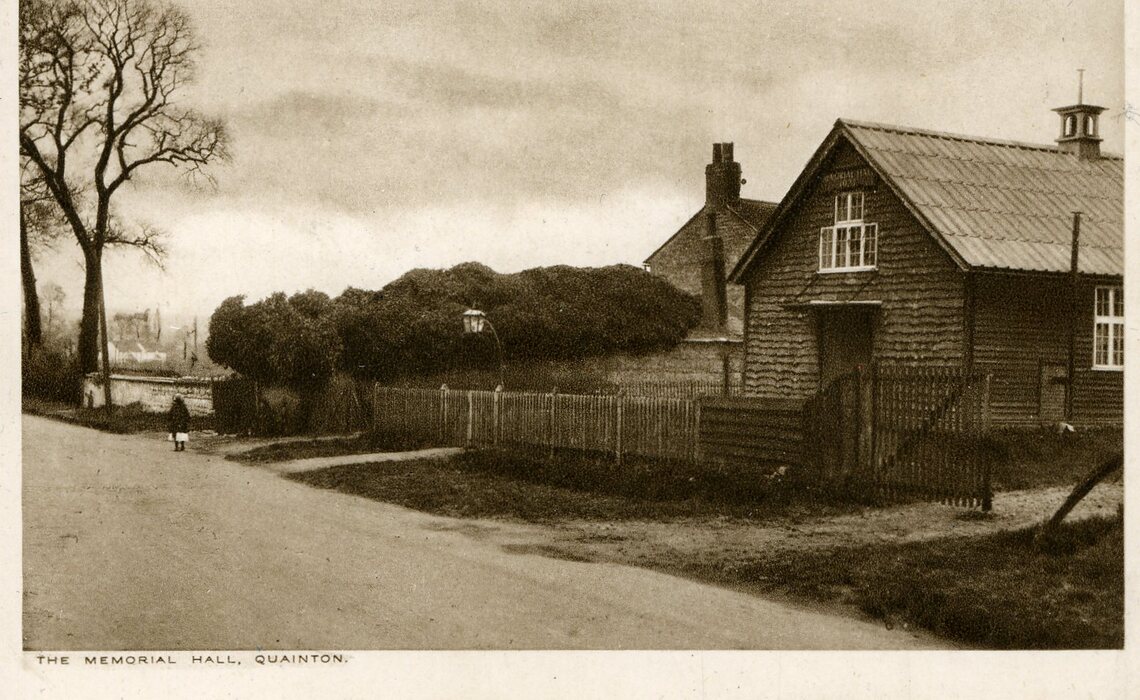 The Parish of Quainton lost 23 of its young men in the 1914-18 war. In remembrance, the villagers raised £800 and chose, as their memorial, a new Assembly Hall in Station Road. The building cost £670 and the land a further £60. There were various other charges including the architect's fee, for a rather simple building, of £25, although the solicitor involved in conveyancing donated his fee to the fund. The seating was provided by the villagers purchasing and donating chairs at five shillings each. The Hall was formally opened in 1924.
In the 1939-45 war, a further 3 men were lost, including Sir John Pigott-Brown from Doddershall House. In memory of these, Sir John's mother, Lady Pigott-Brown paid for a porch extension to be erected which was opened by his son, the young Sir William Pigott-Brown in 1954. A further donation by the late Mrs Philbey allowed a car park to be constructed in 1963.
In 1975 plans were drawn up for enlarging and modernising the hall. Concerns were expressed over the wisdom of such improvements given the underlying poor condition of the existing timber building. Further the costs outweighed available funds. A smaller plan was proceeded with in 1976 whereby a new kitchen was built with the existing being converted to a bar. In 1982 it was reported to the Parish Council that the hall was unlikely to survive much longer and that planners would require a new one to go on a different site due to the lack of parking. The hall was refurbished and redecorated in 1991 at a cost of £6,000. Meantime in the early 1990's the village continued to explore the possibility of a new hall. In January 1995 all plans were once again abandoned in view of the significant land and build costs involved.

In 2000 in spite of regular maintenance the condition of the hall had deteriorated to such an extent that further refurbishment was not economically viable. Rebuild was the only option. Public subscription once again played an important part in raising enough money for the project. The project was also supported by grants from numerous charities and a programme of fund raising events. Building work started in January 2005 and by October a new hall on the site of the original hall was ready for business. It remains a memorial to those who died in military service. The commemoration plaques were reinstated in the new building, whose name remains, 'Quainton Memorial Hall'